Phuket Itinerary – Best things to do in Phuket!
This post may contain affiliate links. If you make a purchase through one of these links, I may receive a small commission at no extra cost to you. Please read the disclaimer for more information.
One of the places that every person aspiring to travel to South East Asia puts on his bucket list is 'Phuket'. The stunning photos of the jade-hued waves of the Indian Ocean waters brushing against the neatly lined pearly shores have enamoured many to plan a trip to Phuket. But, Phuket being the largest island of Thailand, is not just about its spectacular beaches but also about its many temples, national parks, sanctuaries, old towns and its rich fishing culture. So what to do in Phuket is a question that arises in every person's mind. Whether you are visiting Phuket for just a few days after a trip to Bangkok or a good few weeks, I am here to simplify matters for you by enlisting places and things which I feel you must include in your Phuket itinerary. (Especially if this is your first trip to Phuket)
Phuket Itinerary – Best things to do in Phuket
Patong Beach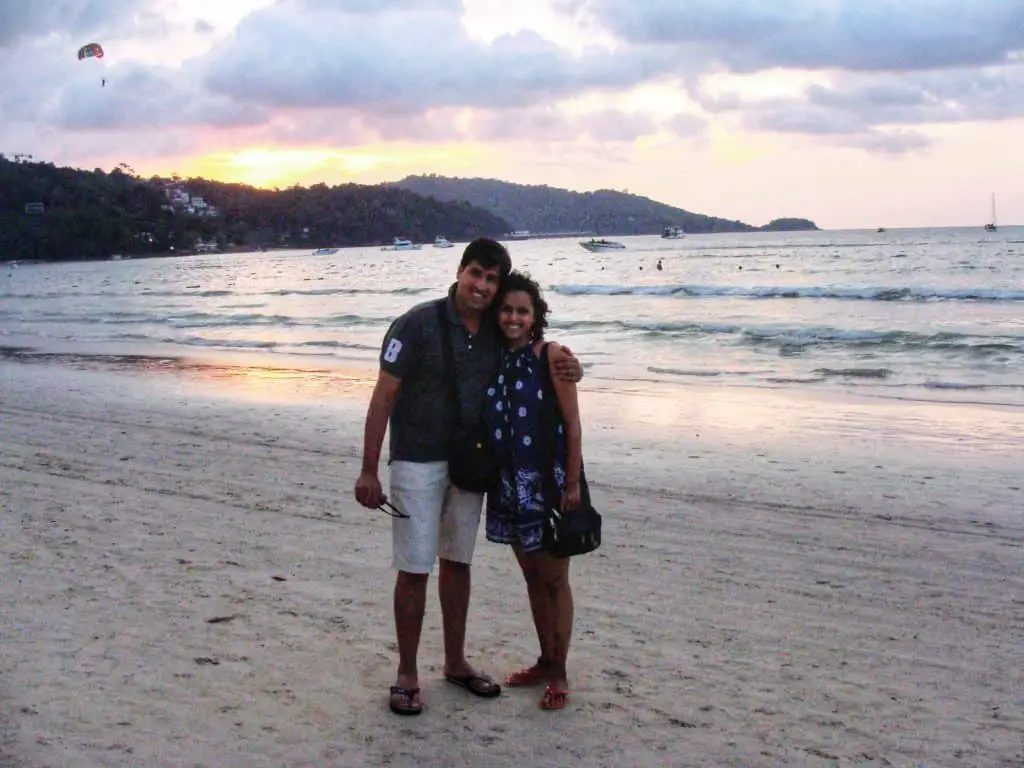 You will read many articles simply writing off this place on account of it being super crowded. But, the reason I insist on having Patong Beach in your Phuket Itinerary is that this place is the touristic heart of Phuket. It is the biggest of all the Phuket attractions. The beach itself is beautiful like most beaches in Phuket but the area surrounding the beach is a touristic haven. Shopping centres, restaurants, massage parlours, street food stalls, money exchange centres crowd the roads and lanes around Patong Beach. But that only means wider options, more competition and therefore better deals for a tourist. So why give it a miss?
Soi Bangla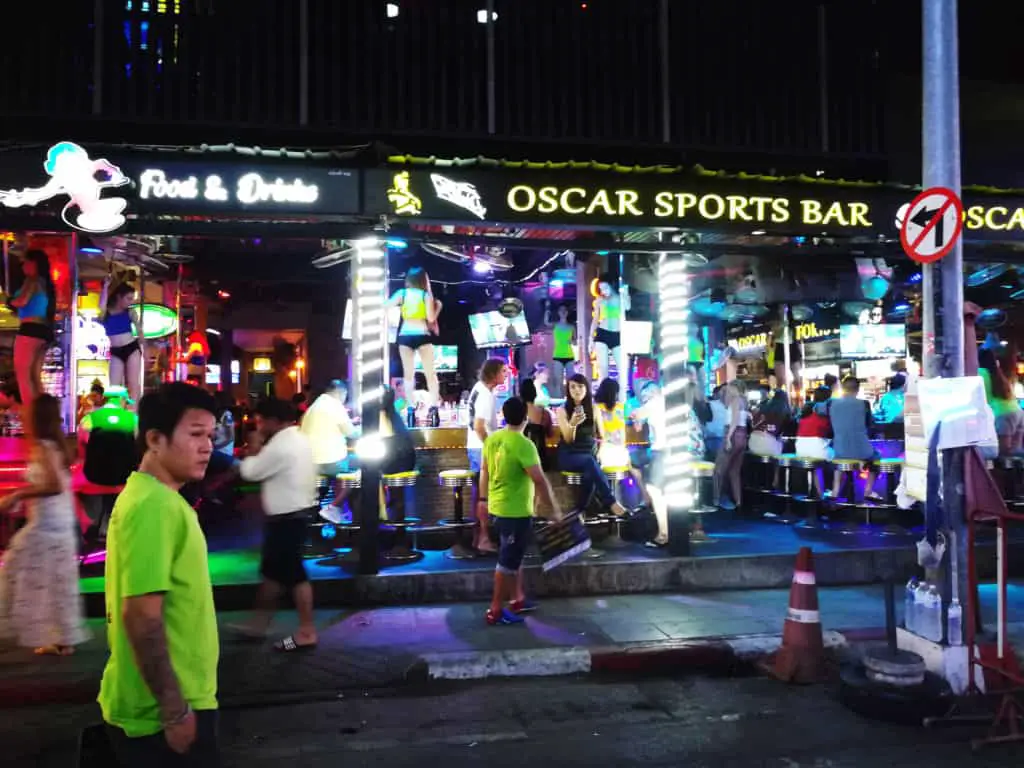 The 'famous' Bangla street known for its wild nightlife is a must-visit even if you are on a family trip to Phuket. This street shuts in the evening for vehicular traffic and magically transforms itself into Phuket's grandest party zone. Night Clubs, live music, Go Go Bars serving cheap beer and pole dance entertainment populate this small street. You can enjoy this madness from afar or plunge as sinfully deep as you want on this street of revelry.
Phi Phi Island Tour or James Bond Island Tour
Every Phuket itinerary must include a one-day trip to the nearby islands. The jade-hued waters of the Indian Ocean mesmerise no matter the time of the year. You may pick an island tour that suits your liking. Booking agents primarily recommend trips from Phuket to Phi Phi Island and Phuket to James Bond Island. Whichever tour you opt for, you will typically spend the day on a speedboat with fellow tourists, get off for a while on these islands, enjoy a relaxed lunch by the sea, spend some time diving or sun-bathing before you are dropped back to the Phuket shores in the evening. Mind you, during peak season, these islands do get crowded due to tourist overload, but that still does not diminish the landscape' splendour that you get to witness on your way to these islands.
(P.S. If you are completely smitten, you could spend more than a just a few hours on the Phi Phi islands! There's lots to do on that small island!)
(Tip for diving lovers: Thailand is a paradise for diving lovers. Apart from Phuket, there are plenty of places that offer terrific diving options. Read this post to know all about scuba diving in Thailand)
Phuket Fantasea Show
This is Phuket's grandest theatre exhibiting for a huge audience Thai culture through its enthralling dance performances. The antics also include performances by trained animals like elephants, buffalos and neatly choreographed puppet sequences. The grandeur of this show impresses whether or not you understand the story! The area outside the theatre has many attractions too which are particularly popular among children. After the show, head straight to the dinner area (included in the price of the ticket) and enjoy sumptuous lavish buffet dinner! Do note however that the tickets to this show sell fast. Make sure you book yours well in advance! 
Wat Chalong Temple
A temple visit always grounds you when you are usually pretty insouciant on vacations. The reason why I recommend this temple is because it is the largest and the most popular temple in Phuket. Visiting the Wat Chalong immediately brings a sense of connect with the people of Phuket. The temple, itself, is also beautifully designed and the serenity that spreads across its premises instantly calms you down. The paintings on the interiors of this sightly Buddhist temple give you an insight into the life of Gautam Buddha. Outside the temple, you will find a mix of both – shops selling religious offerings as well souvenir shops catering to tourists. Needless to say, don't just visit this place like any other sightseeing location. Be genuinely respectful of the local culture and religious sentiment. Remove your shoes and as far as possible avoid wearing sleeveless tops and shorts.
Suggested Read: 4 Reasons Why You Must Travel To Bali
Big Buddha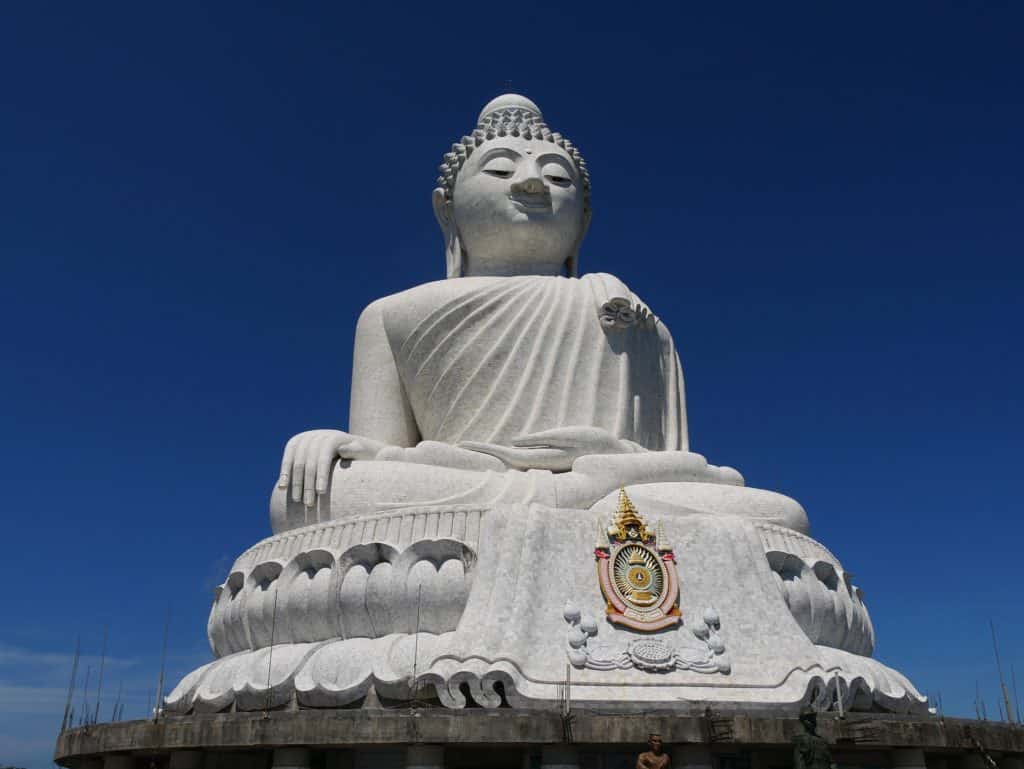 Although the Big Buddha is still 'work-in-progress', every article on the internet on 'places to visit in Phuket' includes a visit to the Big Buddha. That's because rarely does a place have a monumental structure, so huge that it can be seen from any corner of the region (The only other structure that comes to my mind is the Eiffel Towel) and that's why a visit to the Big Buddha is imperative.
The Big Buddha is only a short winding road away from the Wat Chalong but the vibe you feel here is totally different. Although this place is also a religious site, the sight of the Big Buddha leaves you awe-struck as opposed to the peace that Wat Chalong evokes. The view from the top is spectacular and easily ranks among the best places in Phuket for witnessing the sunset. (Watch out for the many monkeys that stroll around this place. Keep your belongings safe.)
Phuket Old Town
Phuket has lately become such a major tourist hub that one tends to forget that there is still a part of Phuket that literally bears the 'old world charm.' The Phuket Old Town will transport you away from the crowded lanes of Patong to a colonial setting. But that doesn't mean the place is dull and lifeless! There are plenty of things to do in Phuket town. Many vintage looking shops and quaint cafes lace the town. Old Buildings with some cool graffiti further add to the charm. The market here is lively and sells some unique trinkets which will make this your favourite place for shopping in Phuket. Overall, the vibe of this place is perfect for a dreamy wandering soul and a definite must on your Phuket itinerary.
Adventure & Activity
Thanks to the enormous popularity of Phuket among tourists from all over the world, the island has equipped itself with some rather interesting adventure facilities. Depending on your taste and gusto, you can choose from a wide variety of options such as zip-lines, ATV rides, white water rafting, etc. If you aren't among those easily enchanted by adventure, you could give some docile activities such as cooking classes a try. Animal lovers must head to one of the many elephant parks where you can ride on an elephant, go trekking, feed the elephant or even wash it in a nearby stream.  (Some tourists recommend visiting the Tiger Kingdom, but I am not a fan of the place as I fear that the animals are treated rather harshly.)
Now, the reason why I insist on including adventure and activity to your Phuket Itinerary is that the infrastructure in Phuket has been developed around tourism. Most of these places are well maintained and used to dealing with tourists and therefore committed to providing you with a memorable experience. Go to any tourist agent offering Phuket day trips and book an adventure outing that fits your bill.
If you do not wish to specifically plan an outing to one such place, at least make it a point to pamper yourself at one of the countless massage parlours in Phuket. The foot massages here are perfect after a long day of sightseeing and are super cheap too!
Final Word
Do bear in mind that that the above list only contains a list of best things to do in Phuket i.e. places and things that must absolutely not be skipped. It is not a comprehensive Phuket travel guide. In addition to the above, Phuket is like a wide-spread buffet offering innumerable touristic delicacies to its visitors. Include as many as you can on your plate or simply choose a few and relish those thoroughly. (You know, all of this was an analogy for places to see in Phuket? Ah well!)
Also, recently I have observed that way too many tourists are choosing Krabi over Phuket because of a number of articles on the internet dressing down Phuket as an 'overcrowded tourist trap.' Let me, therefore, clarify that Phuket although very touristy still retains its charm. Also being the largest island in Thailand, it still has much more to offer than most other islands of the country. If time permits, please visit the other islands of Thailand for their own appeal. But do not ditch Phuket based on the mass sentiment. Go visit the island king of Thailand and include the places and experiences mentioned above in your Phuket itinerary. I promise it will be well worth your time!
P.S. Did you know that the 'h' in Phuket is silent and that Phuket is pronounced like 'Poohket'? No? Well then, you are welcome!
Have you been on a holiday in Phuket? if yes, what would you include in your list of top things to do in Phuket? Do let us know in the comments below if we have missed out something!