Review of Hotel Nami Residency, Ahmedabad
This post may contain affiliate links. If you make a purchase through one of these links, I may receive a small commission at no extra cost to you. Please read the disclaimer for more information.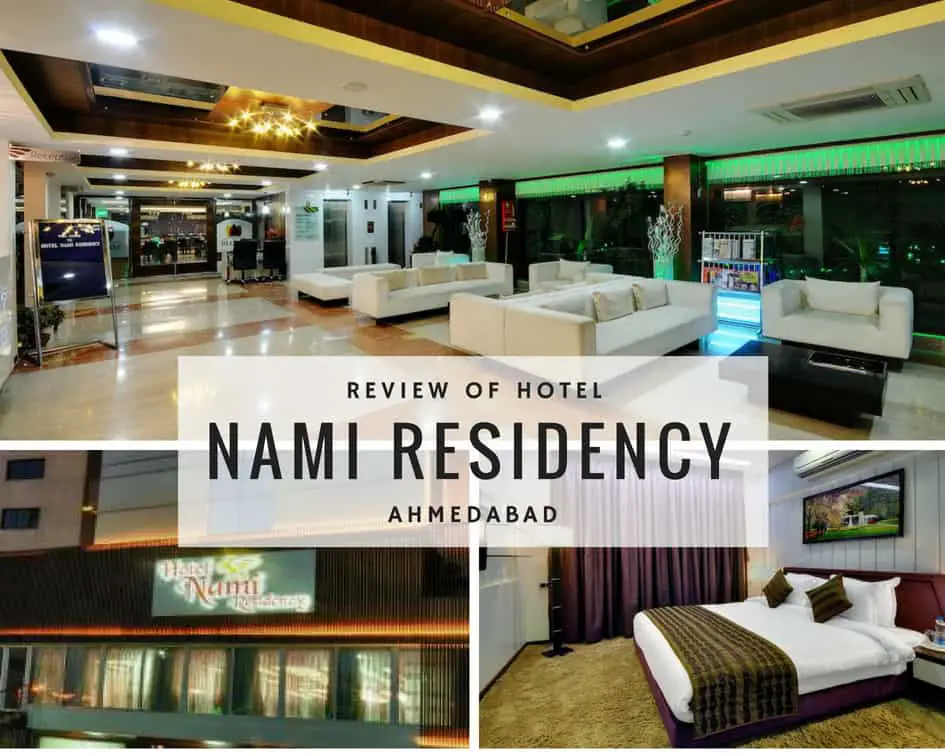 I travel to Ahmedabad quite often for official as well as personal reasons. Ahmedabad, although, an out an out commercial city has plenty to offer to a regular tourist as well. There are plenty of stay options available throughout the city. However, my personal favourite is the Hotel Nami Residency which is located close to the Sabarmati front and most of Ahmedabad's other tourist locations as well.
Review of Hotel Nami Residency, Ahmedabad
Room
Nami Residency has 3 types of rooms (Deluxe, Super Deluxe and Suites). The rooms are spacious, neat and tidy. I am sure you will not have any issue with the cleanliness and hygiene levels of this hotel. The room's lighting and décor is top-notch. The centralised air conditioning ensures that your stay is cool and relaxing. Hot and cold water is available round the clock. Toilets are big and clean and always well sanitized. You can also choose a smoking or a non-smoking rooms as per your choice.
Food
Nami Residency has a 24 hrs. in-house coffee shop that serves a good variety of vegetarian food. However, Ahmedabad being a dry state, you will not find a bar or alcohol facilities. They serve a complimentary buffet breakfast. The laid buffet offers tea/coffee, juices, cereals, fruits, sautéed veggies, potato dishes, poha, upma, dosa, uttappa, idli-vada, eggs to order, toasts and daily breads, muffins and bakes. The taste is consistent and having food here is highly recommended. Additionally, the in-room dinning also has an elaborate menu.
Facilities & Amenities
The facilities and amenities provided on the premises make this place an absolute delight. Even a basic deluxe room comes equipped with a tea-Coffee maker, mini non-alcoholic bar, snack and munchies tray, intercom facility and wi-fi. Moreover, the hotel also has a business centre, a spa, a fitness centre, a travel desk, luggage facility, a concierge service, and provides separate accommodation for drivers. In case you plan to drive to Ahmedabad, the hotel also provides free parking to its guests. Impressive right?
Staff & Hospitality
The staff is well-dressed, well-mannered, well-trained and courteous. Over and above the local language, the staff speaks and understands both Hindi and English. Therefore, communication should not be a problem at all. The service is lightning fast. The hospitality standards of this place itself make it an absolute value for money.
Location
Nami Residency is a wonderful property located in the heart of Ahmedabad, on Ashram road which is one of the busiest roads of Ahmedabad. It is 4 kms away from Ahmedabad railway station and 11 kms away from the airport. It's strategic placement proves to be perfect for both a business traveller and a regular tourist. General stores, taxi & auto services, currency exchanges, restaurants, ice cream parlours, juice centres, local apparel shops, medical shops, hospital, police station and major tourist destinations are easily accessible.
To sum it up, Nami Residency can easily cater to both tourists and business travellers. The hotel accepts all major debit and credit cards. Online booking is possible and they can also reserve a room on a phone call. The stay is comfortable and the delicious food here make it my most preferred stay option in Ahmedabad.
This review is not sponsored in any way and is based entirely on my personal experience.  
Check out more reviews of accommodations we have stayed at here!