Beautiful places to visit in Austria – A handy guide
This website contains no sponsored content. The content is written entirely on my own and is based on my personal experience and extensive research. This post may contain affiliate links. If you make a purchase through one of these links, I may receive a small commission at no extra cost to you. As an Amazon Associate I earn from qualifying purchases. Please read the disclaimer for more information.
Looking for the most beautiful places to visit in Austria? Don't worry, we have got you covered!
Austria is one of the most beautiful countries in Europe. It boasts of diverse landscapes, rich history, and architecturally enthralling monuments. From a tourist point of view too, the country can fascinate every type of tourist. Plus, the beautifully connected rail and road network makes it possible for the regular tourist to reach any town or city within Austria without much trouble. 
In this post, I have collaborated with a few fellow travel bloggers to provide you with useful travel information on some of the top places to visit in Austria. I am sure that this information will tempt you to travel to Austria soon and extend your stay in the country to be able to explore all the towns and regions mentioned below. 
Beautiful places to visit in Austria – A handy guide
Salzburg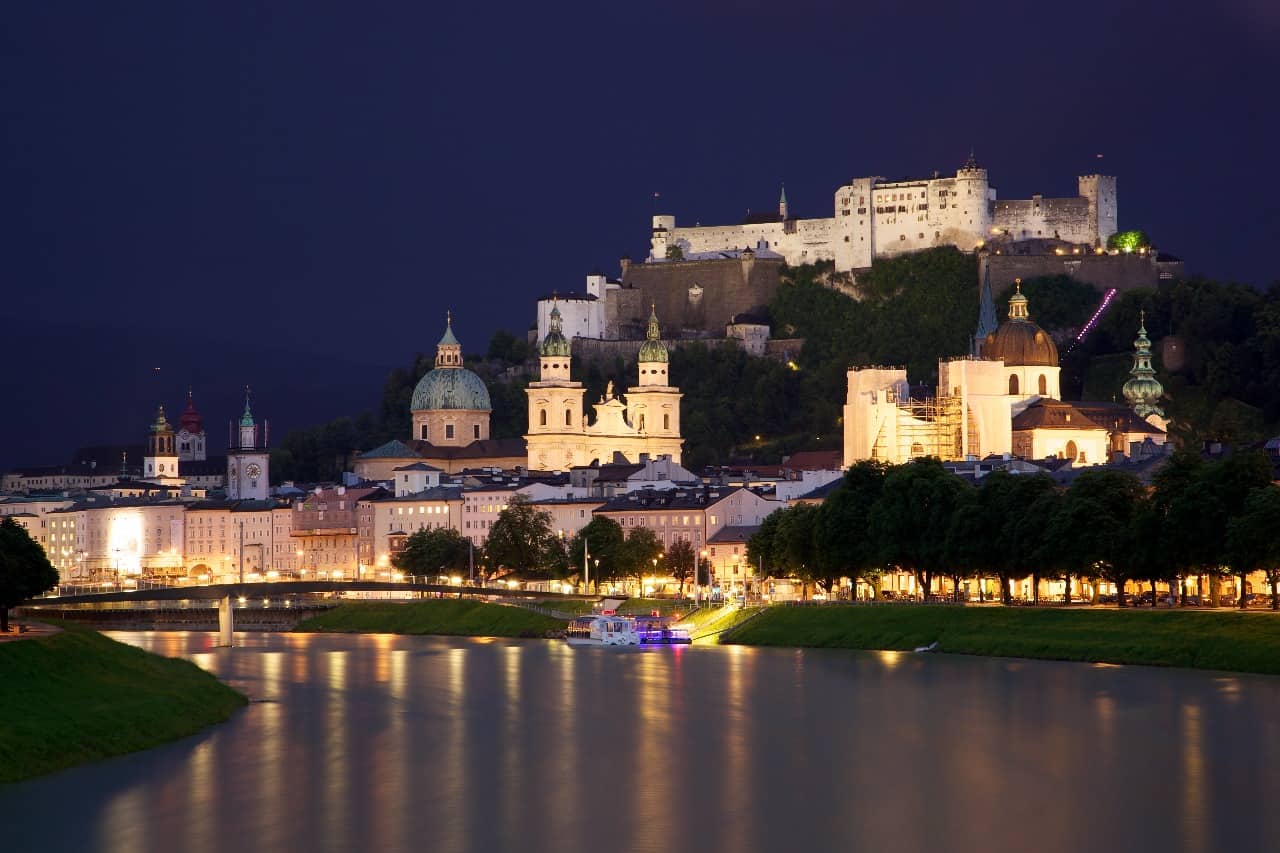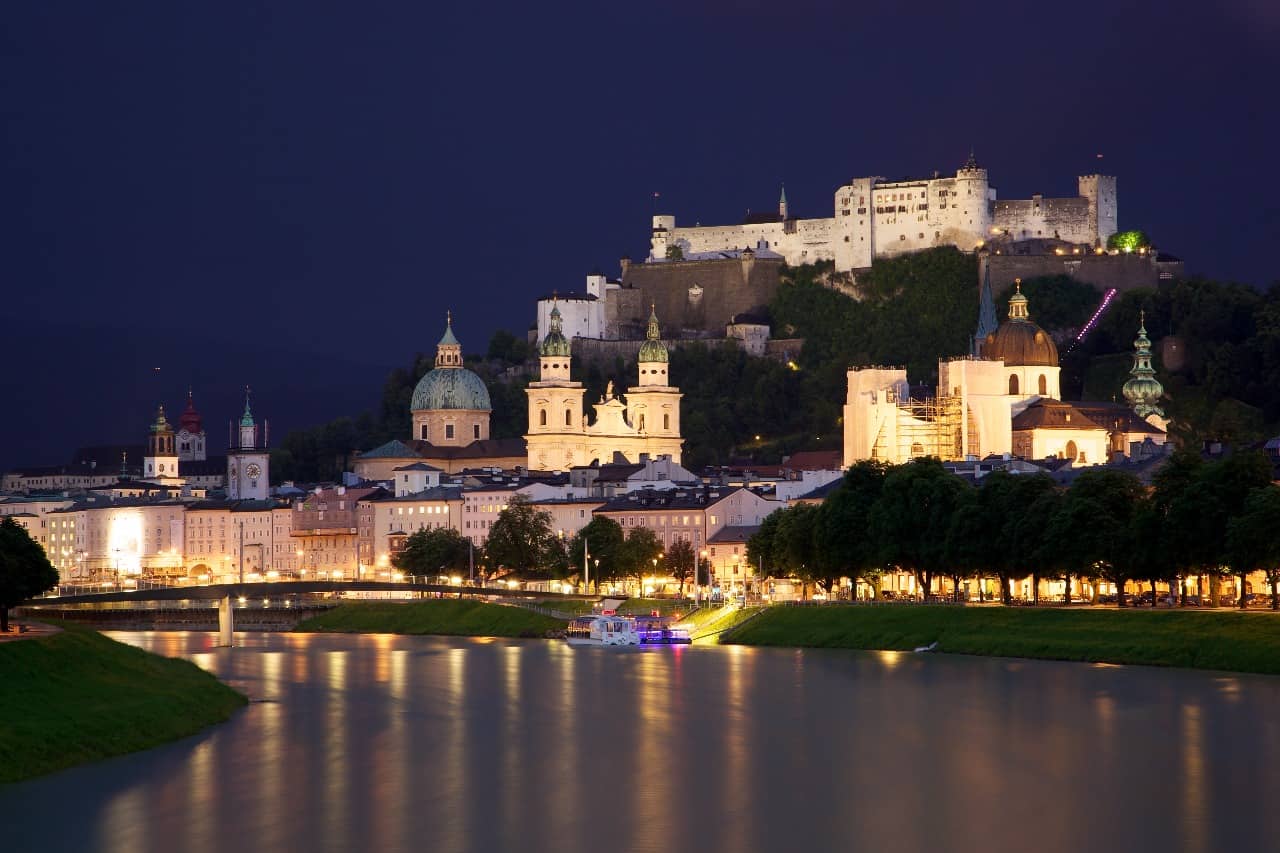 Salzburg is one of the most famous Austrian cities. It can be easily accessed from many other Austrian towns such as Innsbruck and Vienna and just a couple of hours away from Munich in Germany. 
(Pro tip: Did you know that you can use the money-saving awesome Bavaria Ticket also known as the Bayern Ticket to travel to Austria as well)
Many people know Salzburg as the city where the classic movie 'The Sound of Music' was filmed. Hordes of tourists travel to the city and visit the many filming locations of the movie. However, Salzburg is much more than just a famous movie set. 
Its old town set along the beautiful river Salzach is picturesque. In this old town's heart lies the famous Hohensalzburg Fortress that overlooks the beautiful city washed in pastel hues. In addition to this, the Old Town is also home to the mighty Salzburg Cathedral and the charming Benedectine Monastery of St. Peter's Abbey. 
In addition to this, tourists can visit the Mozart Birthplace, which now houses an insightful museum that will delight many music aficionados. The Mirabell Gardens, the Salzburg Zoo, and a cruise in the river Salzach are also a great way of spending time with kids in Salzburg. 
In fact, read my full post on the best things to do in Salzburg here. It will give you all the information you need on the places mentioned above together with some cool money-saving hacks that you could use! 
Vienna
Suggested by Nina | Lemons and Luggage
Vienna is the perfect place to get some insight into the history of the Austro-Hungarian Empire. When the weather is good (visit in spring!), you can go for a stroll to see the gorgeous architecture and parks and imagine life in the Imperial capital. But that doesn't mean there isn't anything to see in Vienna when it rains. 
Actually, Vienna has so many museums and palaces that it would take weeks to see them all.
From the impressive Schönbrunn Palace, the Hofburg Palace with its various museums, to the gorgeous Belvedere, these palaces are all in excellent condition and tell you much about Austria's time as a major European power. 
And don't forget to visit Vienna's landmark St. Stephen's Cathedral. This Gothic church offers tours so that you don't just admire the architecture but learn more about the cathedral's past as well.
Of course, Vienna is also known for its café culture and cakes and coffee. And if you're vegan, don't worry, you can indulge in all the same delicious things if you check out this vegan Vienna guide. The famous Sachertorte is no longer only available for non-vegans!
Finally, don't miss the opportunity to see a classical concert in the city that is also known as the City of Music. Musicians such as Mozart and Beethoven became famous during their time in Vienna, and music is still an essential part of any city visit. Often you can even come across free concerts in churches!
To get the most out of your time in Vienna, you want to stay close enough to the downtown area to have easy access to the sights but still not in the very center where accommodation is too pricey. The 2nd District makes for a nice compromise with good connections and affordable hotels.
Innsbruck
Suggested by Megan Starr | Virginia Travel Tips
Surrounded by the beautiful Karwendel Alps, Austria's fifth-largest city is one of the most beautiful cities in the Alps and definitely one of the best places to visit in Austria.
The mountainous, small city is not only popular for its remarkable beauty but is also popular because Innsbruck has been a two-time host for the Winter Olympic Games and has also hosted the Winter Paralympics, bringing the Austrian city into the spotlight several times. 
You can find plenty to do in Innsbruck year-round, so it really is a great place to visit during any season! One of the most famous sights in the city is the Amber Castle, the Renaissance castle in Innsbruck and the surrounding area. 
Travelers also love taking a stroll through the Altstadt (Old Town.)
It is located in the city's heart and is extremely colorful and has buildings dating back over 500 years.
If you happen to land in Innsbruck in winter, you will need to take the Innsbrucker Nordkette to a high, Austrian natural park teeming with snow and activities. Just note that it is also gorgeous during the summer months too!
It would be remiss in visiting Innsbruck and missing the Bergisel Ski Jump since that is where the city became famous during the Olympic Games and the World Championship Ski Jump has since become one of the main attractions of the Austrian city. If you're there in winter, you will likely see many athletes skiing down at a high speed of over 90 kilometers an hour!
Those looking at something involving less nature, check out the Swarovski Crystal World, a magical fairytale-like land decorated with a waterfall, giant sculptures, a hedge maze, and much more. In the indoor area, you will see thousands of crystals and an amazing "Chambers of Wonder."
The best place to stay in Innsbruck is in the city center as it will allow you to walk the area and catch buses with ease to other parts of the region.
Hallstatt
Suggested by Krisztina Harsanyi | She Wanders Abroad 
Hallstatt is a picturesque little village located in the Salzkammergut region in Austria. Since it's a small village (it only has a population of 859 as of 2009), accommodation options are a bit limited and quite pricey. If you're planning to spend only one day in Hallstatt, it's better to stay in Salzburg (which is the biggest city in the area) from where you can reach Hallstatt within 1.5 hours by car.
Hallstatt is located on the shores of Lake Hallstatt and it's full of Alpine-style houses and cute little alleyways full of many shops and cafes. It is a trendy place among tourists, so be prepared for insane crowds if you're visiting in the summer months! If you're longing for a quieter experience, try to visit in the shoulder season to avoid mass tourism.
 Taking a stroll in the old town and the lakefront is one of the best things to do in Hallstatt. If you want to find the postcard-perfect viewpoint from where you can see the church and the little houses by the lake, search for "Aussichtpunkt Hallstatt" on Google Maps.
 If you want to experience Hallstatt from the water, you can opt for a boat tour or rent a swan paddler. Another great thing to do is to take the funicular or hike up to the mountains to see the World Heritage Skywalk from where you can have a panoramic view over the entire town, the lake, and the surrounding mountains. A round-trip with the funicular costs 18 EUR, and you can also buy a combined ticket, which includes a visit to the salt mines for 34 EUR.
Graz 
Suggested by Natalie Deduck | Love and Road
If you are planning a trip to Austria, you must add Graz to your itinerary. There are four good reasons to visit it: uniqueness, arts, architecture, food, and wine. 
Graz is the second-largest city in the country, but it's not the most touristic one, making it an even more attractive destination. The list of things to do in Graz is vast, a mix of old and modern, traditional and contemporary, urban and nature.
The first place you should visit in Graz is Schlossberg Hill and the iconic Clock Tower. They are the symbols of the city, and from there, you have the best views. The architecture is another major attraction in Graz. You can admire buildings from Medieval times to Renaissance, an open-air museum that will leave you speechless. Besides this rich architectural heritage, modern buildings' construction creates a fascinating contrast, a unique urban landscape. 
Graz is famous for its outstanding museums such as the Kunsthaus, the Schloss Eggenberg, and the Landeszeughaus – note that you can buy one ticket and visit several museums located in 13 different locations. 
Unlike other Austrian cities, Graz breathes a Mediterranean vibe on its architecture and lifestyle. Be ready for charming restaurants and cafes with tables spread along the streets and squares, an invitation to try the local delicacies. Graz has the title of Capital of Delights, which means it's Austria's gastronomic capital, which means you will eat very well there. 
These are just some of the top things to do in Graz; there is more to see on its surroundings. You can add to your itinerary a day trip to the vineyards in South Styria, go hiking or mountain biking on the stunning nearby mountains, or visit beautiful castles and open-air museums.
To enjoy all that, you should stay in Graz for at least 3 or 4 days. And to make your life easy, choose a hotel in the old town, by the Mur River or near the Kunsthaus Museum. Summer and spring are great times to visit Graz, as you can enjoy the sun and the outdoors. If you like cold weather, winter can be a good option too, especially if you plan your trip around Christmas to visit Graz's famous Xmas Markets. The truth is that it doesn't matter when you travel to Graz; the city is a fantastic destination at any time of the year. 
South Styria
Suggested by Lori Sorrentino | Travlinmad
If you're looking for a new corner of Austria to explore, head south to a less-traveled part of the country, to the Green Heart of Austria in South Styria.
South Styria is home to charming small towns, rolling hills, and enchanting vineyards — strikingly reminiscent of Tuscany with a lush verdant feel. Known for its 44-mile long Wine Road lined with beautiful scenery, excellent wineries, and a fantastic brewery as well, Die Brauerei. So while South Styria is a lovely destination any time of year, wine lovers should visit in the fall during the harvest season and road trip or bicycle to and from wineries along the South Styrian Wine Road.
If you love trying the local food, stop in the Vinofaktur Genussregal in Vogau, the region's largest wine shop. The enormous store features all sorts of delicious foods, beer, and wine all produced in Styria, and their on-site restaurant is excellent too, especially the wood-fired pizzas. Take the tour inside, sample your way through the store for a small fee, and don't miss the pumpkin seed oil. It's one of Styria's most famous local foods drizzled on just about everything from meats, cheeses, salads, and even ice cream — yum!
After a long day of wine tasting and road-tripping, you can spend a night or two in a local buschenschank. Gamlitz has several like Weingut Hack-Gebell. These quaint country inns make and serve their own wine along with platters of homemade meats and cheeses.
A visit to South Styria makes an ideal day trip from Graz, but even better with a few days or longer!
The Cheese Road
Suggested by Abigail | Inside the Travel Lab
Austria's ​Käsestrasse or cheese road swerves and swoops through Bregenzerwald. This region of approximately 100 kilometers in western Austria marries tradition with innovation while being perched high amidst the mountains. 
But why is it called the cheese road?
Cheese is popular across Europe's mountains, but in Bregenzerwald, over 200 local operatives create a coordinated experience for the visitor. 
You can pull over and arrange cheese tastings, book in advance for cheese-making lessons, or hike among the pastures of farmers whose livelihoods depend upon cheese. 
In particular, look out for cheese-making classes run by the Metzler farm in Egg, where every student has a stainless steel station, plus an endless supply of schnapps. No student leaves without their own hand-crafted disc of cheese. 
Then there's the Käsekeller, a cheese co-op with other 32 000 slabs of the good stuff and presided over by locals wielding knives. 
It's a great example of sustainable tourism, and it hasn't gone unnoticed. The Käsestrasse has now received Intangible Cultural Heritage status from UNESCO on account of the longstanding traditions involved. Farmers take cows to pasture in a labor-intensive process that produces aromatic milk (and hence cheese.)
But it's not all about the cheese. 
You can hike across 4000-year-old ferns in Krumbach Moor at dawn and check out the world-famous bus stops.
No, that wasn't a typo. In a bold civil engineering project, the village invited architects to redesign the infrastructure in return for a holiday here. The result? Wood and chrome that twists into the sky with philosophy at every bus stop.
You'll get the most out of the ​Käsestrasse if you visit in Europe's summer months and hire a car. Base yourself in Hittisau or Krumbach and hit the cheese road from there. 
Kufstein
Suggested by Linda | Travel Tyrol
Kufstein is one of the best-preserved historic towns in Austria and famous for the many battles between Tyrol and Bavaria that took place in and around its centuries-old fortress. 
Today, people come here to hear the world's biggest freestanding organ play at noon every day or to see how the world-class Riedel glass is blown by hand.
Kufstein is strategically located in the Inn Valley about halfway between the Bavarian (Germany) and Tyrolean (Austria) capitals of Munich and Innsbruck. Its location makes it easy to access it via train or road. Either way, you'll know you're close when the imposing fortress comes into view.
After checking out the fortress on the hill on the edge of the old town, it's time for a stroll through ancient cobbled lanes. The most notable one is called Römerhofgasse. Here at the Aurachl Löchl Inn, Karl Ganzer composed the international hit yodeling song Die Perle Tirols (The Pearl of Tyrol). 
For an unforgettable dinner, you can dine at the Aurachl Löchls bridge restaurant, which spans the cobbled lane. With room for only two people, they say it's the smallest bridge restaurant in the world.
No matter where you are in Kufstein at noon, the familiar sound of the Heroes' Organ can be heard coming from the fortress. Built as a World War I memorial in 1931, the daily concert of around 20 minutes always ends with The Good Comrade. A good idea is to be seated at a café or restaurant on the market square and listen to the organ sounds while sipping on a drink or enjoying a meal.
Active travelers will love the fact that Kufstein gives them access to hiking in the Kaisertal, one of Austria's most beautiful valleys. The local cableway, the Kaiserlift, is one of the last remaining one-seater chair lifts in the country.
If you're staying overnight, the Auracher Löchl's Träumerei #8 boutique hotel or the Arte Hotel are good choices. And you can't go wrong dining at Hans im Glück on the corner of the famous street.
Mondsee
Suggested by Melissa | Parenthood and Passports
Located just outside of Salzburg, the small, charming lakeside village of Mondsee, Austria, is one of the best places to visit in the country. With only 4,000 residents, Mondsee is a small town bursting with beauty. A popular stop along The Sound of Music tour, many visitors spend only a few hours in the town. But it is worth giving yourself more time to experience everything Mondsee has to offer. 
Basilica St. Michael, in the heart of the town, is the primary draw for visitors to Mondsee. The prominent, yellow church was the filming location of the Von Trapp wedding in the classic movie The Sound of Music. The cathedral's altar is a particular and peculiar point of interest, as it contains the mummified remains and complete skeletons of martyrs and saints decorated with jewels. 
After touring the ornate cathedral, there are plenty of other things to do in Mondsee, Austria, to keep you busy for a day or even a weekend. Mondsee is the perfect place to relax on a warm day, enjoy a swim in the calm waters of the lake, or watch the swans and ducks from the shoreline. Make sure to have lunch or something to drink at one of the cafes or restaurants that line the pedestrian streets. Many offer outdoor seating with stunning views of the cathedral and the mountains which tower above the town. 
Mondsee makes for an easy day trip from Salzburg or even a relaxing weekend getaway. To experience Mondsee without the crowds, spend at least one night there. Schlosshotel, located directly adjacent to Basilica St. Michael, resembles a palace and gives guests the royal treatment. 
Final Word
There is no denying that Austria is one of the most beautiful countries in Europe. That's why, to explore the country thoroughly and take in its beauty, you should spend at least a couple of weeks in Austria alone. However, if you are short on time and not in a position to include all of the above places on your travel itinerary, I urge you to visit as many as possible. 
You will love it! I promise! 
Are you also travelling to Germany? Check out all our posts on Germany here!
---
TOP TRAVEL RESOURCES
Here is a list of our favorite travel resources- the ones that I absolutely swear by when planning almost every trip. Go through this list to plan a hassle-free trip and save a lot of money!
Flight Booking: Check the availability of tickets, the best time to fly, and the cheapest fares on Skyscanner. You may also find a cheap flight via CheapOair
Accommodation: I absolutely love booking through Agoda. In most countries and particularly in Asia, I often find the best fares on Agoda. But I also love the no prepayment and no cancellation fee policy of Booking.com. For cheap accommodations and hostels, nothing beats Hostelworld.
Car Rentals: You may find and rent an appropriate car via RentalCars. It's hassle-free and reliable.
Guided Tours: I absolutely love GetYourGuide for local sightseeing tours, walking tours, history tours, and food tours. The booking process is seamless, and the tours are super affordable. But in Asian countries, I prefer Viator or Klook for their affordably priced tours.
Lounge Access: Get Priority Pass – my personal favorite card that gives me unlimited access to premium airport lounges all over the world
Hey, if you found this post helpful, share it with more people or buy me a coffee!