Despite travelling to innumerable destinations, no place keeps pulling me back to it the way Goa does. In case you are wondering what's so magical about Goa, here are 15 photos that summarise the essence of Goa.
1
Picture-Perfect Goan Twilight
Twilights on a deserted Goan beach are immensely calming. Try to discover hidden unexplored beaches on your Goa trip. (Location: Cola Beach)
2
Goan Beach Cottages 
Imagine how refreshing it would feel to wake up to a beach-view every single day on your holiday! Goa is best experienced when you live in one such beach cottage. (Location: Agonda Beach)
3
Goan postcard 
Goa boasts of a rich fishermen culture. You will find plenty of fishermen's boats lacing the Goan coastline. Make sure you appreciate that side of Goa as well! (Location: On the way to Fort Aguada)
4
Calm & Crystal Clear Sea Water
Most of the South-Goan beaches are calm, deserted and peaceful unlike the beaches in North Goa. Head South if you are looking for some peace and relaxation. (Location: Talpona Beach)
5
Exploring Goa on a two-wheeler
If you want to make the most of your Goan trip, travel around on a rented two-wheeler. The roads are well-maintained and you can halt everytime you find a breath-taking location. (Location: Near Canacona)
6
Backwaters in Goa
Who said you need to go all the way to Kerala to enjoy the beauty of backwaters? Goan backwaters are equally picturesque. Head here, especially during monsoons. (Location: Pernem)
7
Lip-smacking roadside food in Goa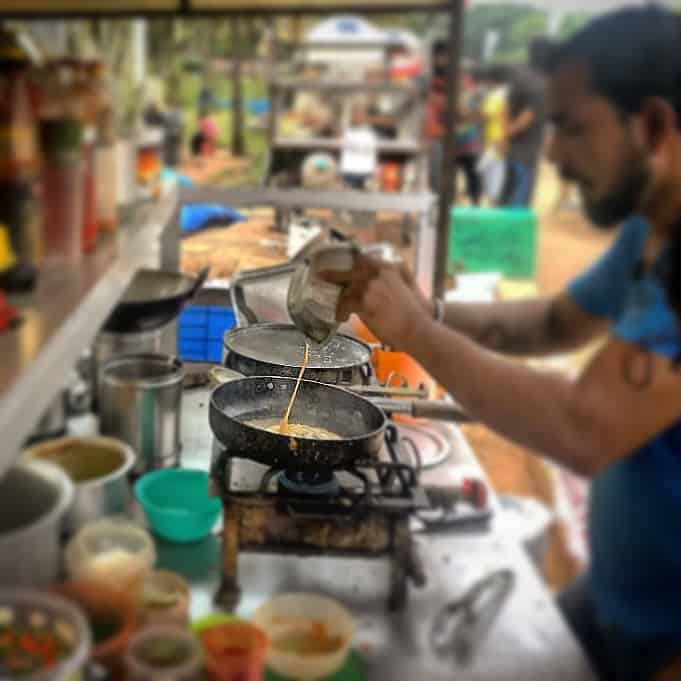 What's a Goa trip without eating some delectable roadside food? Try the Goan Ros Omelette. It's wallet-friendly but never short of the yummy element! (Location: Outside Miramar Beach)
By the way, check out our guide with 12 money-saving tips to help you visit Goa on a budget here. Read our detailed post on the best places to visit in North Goa here. Or get a custom-made Goa trip plan here.
8
Vibrant Night
This is the place where you want to be if you want to experience the famous Goan night-life culture. This part of Goa never sleeps! (Location: Baga Beach)
9
Hollywood Attraction
If it can be a filming location for Hollywood movies, it has to be the best! When you are in south Goa, you can't afford to skip a visit to this magnificent beach. (Location: Palolem Beach)
10
Typical countryside scene in Goa 
When we were in school, remember how we used to draw a village scene? A house, a well and lots of greenery! Goan interiors bring those pictures to life. Plan one outing here. (Location: Thivim)
11
The local Kings Beer! 
Three things are essential for a perfect Goan Trip: Beer, beer and some more beer! (Location: Anjuna Beach)
12
Goan Church 
Purge yourself of your sins. Visit one of the many churches or temples in Goa. (Location: Panjim)
13
Parasailing in Goa 
Take your Goa trip to a new 'high.' Enjoy parasailing and many other fun water-sport activities. (Location: Benaulim Beach)
14
Milky waterfall 
This milky-white waterfall will leave you awestruck. A trip here is a must on your post-monsoon Goa trip! (Location: Doodhsagar)
15
Wildlife Sanctuaries
Pin it now!
Wildlife lovers won't be disappointed as Goa has a few amazing wildlife sanctuaries. Spend a day with animals, birds and reptiles here. (Location: Bondla)
Don't forget to pin this for later!
Which one of the above photos tempted you the most to take a Goa trip? Let us know in the comments below! Also, free to use these as a guide too for creating a perfect Goa itinerary! 
More Goa articles:
Picture Credits: Akshay Ketkar